Our day-and-night manned alarm centre goes into action when the temperature moves outside the fixed temperature interval.
AK-Centralen handles incoming alarms professionally based on the current agreement with the clients.
Assessment of the situation
When an alarm signal is registered in our system, our trained operator team assesses how the situation is to be handled.
In this way service costs for the clients' units and facilities are kept to an absolute minimum.
Troubleshooting
The operator may also ask the clients' staff to carry out some remedial actions and may thus avoid expensive service calls.
Assessment
Our advanced IT systems enable the client to get documentation for all incoming alarm signals and our reaction to them.  – In this way a comprehensive statistical material can be submitted so that the client is able to optimise efficiency, service costs and investments.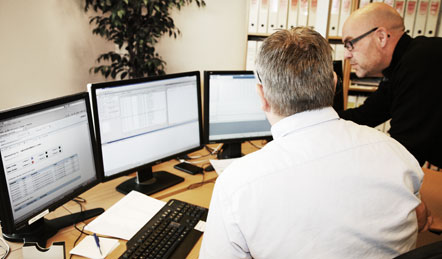 We remedy many small errors before they grow and become big and often expensive problems.
Contact AK-Centralen and hear how we can help you to establish surveillance and alarm handling for your store or store chain.
AK-Centralen annually handles...
AK-CENTRALEN IS ABOUT PEOPLE