AK-Centralen is an alarm centre that monitors refrigeration facilities in stores and institutions.
The surveillance is carried out via central databases and communication to the individual stores and institutional facilities.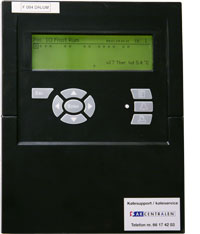 Monitoring technology
The regulators of the stores are connected in a bus system so that they communicate together via a safe closed VPN network to AK-Centralen.
In an alarm situation in a store an alarm signal is transmitted from the store's refrigerating facility, via the communication unit, to AK-Centralen.
Error or alarm
In case of a communication error or an alarm situation an alarm signal appears in AK-Centralen's alarm software.
The alarm procedure is started by AK-Centralen's operators, so that optimal temperature quality is obtained.
Alarm handling
AK-Centralen's operators attempt to remedy the cause of the alarm and in cases where a service order is necessary for the store, this is done by AK-Centralen with all the necessary data to the service partner. In this way responsibility for product damage is transferred to the service partner who carries out service in the store according to his contract with the store.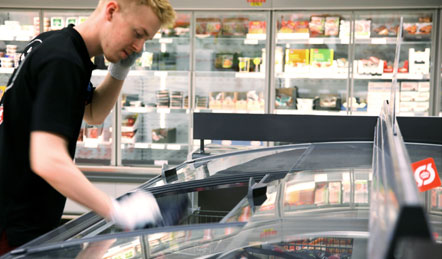 Communication units in the stores send ongoing signals for monitoring the connection.
Contact AK-Centralen and hear how we can help you to establish surveillance and alarm handling for your store or store chain.
AK-Centralen annually monitors...
With more than
compressors
---
More than
refrigerating/freezing facilities
---
AK-CENTRALEN REQUIRES NO INVESTMENTS